Beauty Boo-lu Cerone game
Follow us on Facebook and Youtube: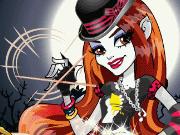 Description: Beauty Boo-lu Cerone
Boo-Lu Cerone is well versed in rock music and loves to play with her band. She is the drummer, and sometimes likes to play the piano. She is very confident and strong-willed character and therefore she does not like those who whines doing nothing to solve the problem.
How to play:
Your task in the game is to pick a stylish outfit for a strong girl. Do you think what she should put on to make it immediately clear that we have a real leader?
Played: 53550. Added: 16-05-2014, 18:39.
Play other games from this developer:
StarSue.net
. Categories:
Monster high