Clawdeen Little Dead Riding Wolf game
Follow us on Facebook and Youtube: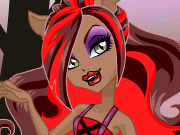 Description: Clawdeen Little Dead Riding Wolf
Clawdeen wants to visit her grandmother, who lives in a lonely and scary forest. She hopes that she won't meet a hunter or bad people on her way. Although she became a werewolf, so she is not afraid to walk in the woods on her own.
How to Play:
come up with a new outfit for Clawdeen and think about how she would look in a new fairy tale about Little Red Riding Hood.
Played: 82413. Added: 27-01-2013, 12:12.. Categories:
Monster high