Laguna in dance class game
Follow us on Facebook and Youtube: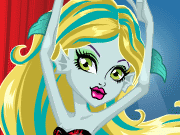 Description: Laguna in dance class
Laguna likes to dance under the water! And it turned out she does it very nice and beautiful! But she dances not very nice on the ground. After all, she had two left feet! Also the prom is going to be arranged in the Monster High and therefore Laguna began to attend a dance club at School. I think that she will succeed and will be the best. What do you think?
To choose the dresses and hairstyles for Laguna in the game you will need only the mouse. Click on decoration items and drag them to the girl. Push buttons on the right to change the partitions with attire objects. Click Done to finish playing this dressing up game and see what is done.
Played: 57015. Added: 3-05-2013, 08:58.
Play other games from this developer:
StarSue.net
. Categories:
Monster high