Elsa plays the harp game
Follow us on Facebook and Youtube: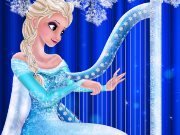 Description: Elsa plays the harp
Frozen Elsa incredibly talented Princess. In addition to all of its known qualities, she still loves to play the harp. Together, let's listen to how she plays this musical instrument and will help her to make a couple of tunes.
How to play:
in this game you will be able to help the Princess Elsa to make new music for her concert. For this, use the mouse and keys in the game. Click on music recording, and then press the keys at the bottom.
Played: 47043. Added: 24-08-2015, 09:41.
Play other games from this developer:
SueFun.com
. Categories:
Frozen Elsa