Barbie the Harvard University student game
Follow us on Facebook and Youtube: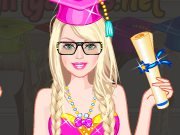 Description: Barbie the Harvard University student
Barbie is very happy because she was accepted to the university. Now she is a student of Harvard University. In addition, she hopes to become the most beautiful girl on the course and do not mind to try herself in the role of the group elder. To do this she decided to study well and do not forget to look after herself from the first days of study, to communicate with her peers and help them with their studies. Of course, she also will have a great fun with her new friends at the university and that she likes the most!
In this dress up game, you can choose a new dress for studies for Barbie. After all, she is a university student already, and she has to wear special outfits. Look how many outfit options there are in the game. All of them look great on her and you can try them on her. In addition, the game has a good ready-made options of clothing. You can see them by clicking on a button with a light bulb at the top right. Try to create the same outfits up to the last detail. Which dress do you like best?
Played: 51138. Added: 22-06-2015, 20:53.
Play other games from this developer:
egirlgames.net
. Categories:
Barbie
Barbie the Harvard University student game walkthrough: