Emo school outfit game
Follow us on Facebook and Youtube: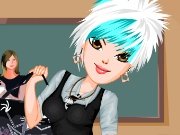 Description: Emo school outfit
Lena loves the emo style. She wears it at home and outdoors. So she decided to wear it at school, but she doesn't know how these clothes look. Help her to figure out and pick a cool outfit, which her classmates will like.
How to play:
click with the mouse on the white circles with pictures to start to choose an outfit for a schoolgirl. You can choose the hairstyle, dress, skirt, shirt, shoes, and cool colorful socks. Of course there also is jewelry.