Kimono Designer game
Follow us on Facebook and Youtube: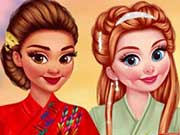 Description: Kimono Designer
Today you work as a Japanese kimono designer in a prestigious atelier in Japan. This is a very interesting and responsible job. After all, you need to know the features of Japanese culture, as well as have at least some idea of ​​what a kimono looks like. In this game, you will have to pick up a kimono shape, fabric color, jewelry for it, hairstyle, and also accessories. But that is not all. Today, your princess will be visited immediately by eight princesses who have come to Japan and believe that you will choose the best outfit for each of them, in which they will walk around the city and get acquainted with the local culture.