Monster High Frankie Stein Hairstyle game
Follow us on Facebook and Youtube: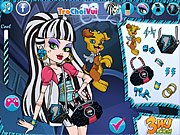 Description: Monster High Frankie Stein Hairstyle
The Gothic style is always in fashion at Monster high and Frankie Stein, too, like the clothes in this style. Especially true for Spectra that now. Since a couple of weeks in Monster high party in honor of the end of the school year. So Frankie Stein is going through how she will look on the holiday. It is good that she has a great assistant that will help you to cope with any challenge. I'm talking about you. Isn't it?
How to play:
in this game you will be able to apply your skills in selection of outfit for beautiful girls from Monster high. This time you'll take care of Frankie Stein. Help her become the most beautiful in the New Year.