Young beauty game
Follow us on Facebook and Youtube: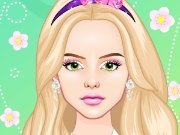 Description: Young beauty
This young beauty does not use cosmetics and prefers natural or near-natural makeup. She wants to try a new way. She has a very beautiful hair, high cheekbones and she recalls Selena Gomez. What do you think, will you have the image close to the star?
In this dressing up game up you control everything only with the mouse. Click on the objects and decorations to try on the girl.
Young beauty game walkthrough: