Funny mom dress up game game
Follow us on Facebook and Youtube: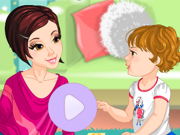 Description: Funny mom dress up game
This little girl loves when mom plays with her. She is especially amused when mom takes toys and speaks in her voice, and then makes faces. At this time, she seems stupid and funny. This makes mother and daughter very close, despite the fact that mother has to work hard. In this dress up game you can join this fun company and have fun with them. Choose outfits for mom and her daughters, and then see what a fun picture you got.