Celebs Boho Style game
Follow us on Facebook and Youtube: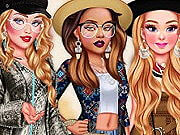 Description: Celebs Boho Style
You must have recognized these cool girls that you often see on TV or on the Internet. These celebrities attract a lot of attention to themselves and therefore they love to be together. So they rest from the attention that is riveted to them every day. This evening they will come together and will do everything that ordinary girls do when they want to relax. They will gossip, laugh, watch movies, do makeup, create new hairstyles, just fool around, or maybe it will just be a pajama party. Join them and see how it will be fun and warm in their company. By the way, did you recognize one of these celebrities?
In this dress up game, you can pick up a make-up for each of the girls, an outfit for relaxation, and then see how cool they will look together. Have fun in this wonderful company!