Princesses high school first date game
Follow us on Facebook and Youtube: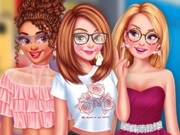 Description: Princesses high school first date
Just give the princesses a reason to go somewhere and have fun. They love all sorts of events and all because there are fun and a lot of pleasant emotions. What can we say about a date! You need to prepare well for this event and choose a pleasant and comfortable outfit so that the princess likes everything in it. In this dress up game with princesses, you can help them get ready for this exciting event. There are as many as 6 princesses waiting for you here, whom you can easily recognize and help them choose the best outfit for a date. Choose each of them in turn and start picking up dresses, tops, shorts, skirts, earrings, hairstyles, and other jewelry. Oh, and don't forget about the cool animal handbags! By the way, did you recognize all the princesses?