Sisters Summer Parties Day and Night game
Follow us on Facebook and Youtube: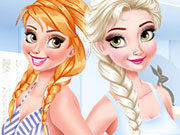 Description: Sisters Summer Parties Day and Night
Do you know the princesses Elsa and Anna? These famous girls want to have a beautiful party today on the night of August 31 to September 1. After all, today comes the calendar autumn! Therefore, the princesses started organizing this wonderful holiday. Its peculiarity is that it will consist of two parts. Day and night. Therefore, the princesses have a lot of worries. They really like organizing holidays, but they still need helpers. Therefore, they are ready to consider your help in choosing their outfits for a day and evening party. Let's start the game and see what dresses and decorations these princesses have in their wardrobe. You will see that they have an excellent set of dresses and you will not have a simple question in choosing the best. As you understood from the text above, you will have to choose dresses for both princesses, and also it will be two variant dresses for day and night.
Use the buttons in the game and mouse to skilfully manage the game, as well as create a cool outfit for our sweet princesses.