Cinderella Rainy Day Fashion game
Follow us on Facebook and Youtube: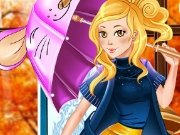 Description: Cinderella Rainy Day Fashion
Today it's raining outside. All day. But Cinderella isn't sad, but rather in a good mood. And all because she loves the rain and autumn. She loves to walk in the Park along the paths with yellow leaves. This is a very beautiful time of the year. So right now Cinderella goes to the Park. But first, she needed to do makeup and choose a cool outfit. Let's see how many beautiful things in her wardrobe. We immediately see that Cinderella is in love with rainy weather!
How to play: in this rainy day, you can help Cinderella to dress for the wet autumn weather. Play Cinderella Rainy Day Fashion game and use the mouse and your ability to choose outfits.