School dress for princess game
Follow us on Facebook and Youtube: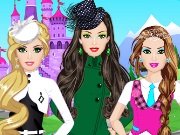 Description: School dress for princess
Imagine that the princess came to a regular school! She will study here for a while and will be an example to other students how to behave and learn. What would you advise her to wear on the first day at school? Hurry up, because the lessons are about to begin and our princess Amelie is not ready to go!
Control of the game is simple and you probably already guessed that will only need a mouse! Click on everything that you want to try on Amelie and you will see how she is going to change. What you'll wear to school? Would you choose cuddly or strict dress?