Dancing queen game
Follow us on Facebook and Youtube: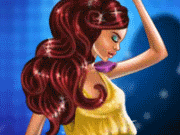 Description: Dancing queen
Do you like to dance and to see how beautiful the others are dancing? Let's see what kind of clothes are there in the wardrobes of this slim beauty, and choose the best!
To pick an outfit for this beauty you will need only the mouse and your ability to pick a chic outfits. Click on the tabs, and then drag the items to the girl.