Kate at school again game
Follow us on Facebook and Youtube: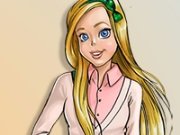 Description: Kate at school again
So holidays are gone and it's time to go back to school. Kate loves to study. Except fun and friendly class, she learned many interesting things at school. Therefore, the girl wants to look beautiful and stylish. It became warmer during the holidays and it's time to think about the comfortable clothes for spring!
In this dressing up game you will only need a mouse. Click on the clothes in her closet to start trying outfits on Katya. What will you dress her in?