Animal Dress Up Party game
Follow us on Facebook and Youtube: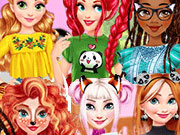 Description: Animal Dress Up Party
Princess party sounds awesome! And what if they organize a theme party on animals with princesses and invite you? This great idea came to Barbie's head and now they are going to have fun in dresses that have drawings and ornaments with animals. As I already mentioned, they invite you to choose outfits and pick up accessories for all six princesses and have fun. In the game, you can make a beautiful selfie decorating it to your taste. Look at the screenshots of the game on the
fun girls games
site and rate my selection of clothes for the Disney princesses.