Lovely towers game
Follow us on Facebook and Youtube: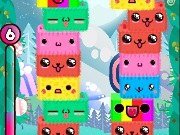 Description: Lovely towers
Cute cubes in the imnage of kitty faces fall from the top to towers. Your task is to find the same cubes and build them in columns of three or more. More of these combinations, the more points you earn.
There are still blocks with bombs, but there are also universal blocks. The first blow up the entire tower, while the latter are suitable for any color.
Control the game only with the mouse. Push the block to make them pass to the neighboring tower.