Messy Pou Girl game
Follow us on Facebook and Youtube: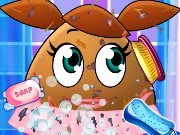 Description: Messy Pou Girl
Cheerful and naughty Pou girl came home dirty. She had a great day and now like a little slut. So you have to try and clear it of everything that stuck to her while she played with her friends in nature.
For starters take tweezers and take off all the branches. Then use the brush to remove all debris. To use the sponge you need to play minigra. It is necessary to remember the location of cards. Click on them in pairs to remove them from the field. By the way, don't forget to remove dress with paw and place it in a basin for washing. It should be washed using soap. In addition, use shower to wash the Pou girl and then wipe with a towel.
Played: 32679. Added: 4-10-2015, 01:59.
Play other games from this developer:
SueFun.com
. Categories:
Caring