Kissing my kitten game
Follow us on Facebook and Youtube: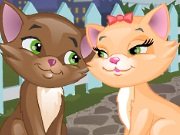 Description: Kissing my kitten
There is spring on the street, but these cute kitty and cat love each other! They love each other and can not take their eyes off each other. They can not wait to kiss but there is a huge dog and another cat are watching them!
How to play: Press and hold the mouse on the beloved couple to make them kissing. Watch for a black cat and a large dog. They can see that our beloved are kissing. Release the mouse and wait until they turn away. Fill in the indicator with pink to win the level!
Played: 42696. Added: 21-10-2012, 22:26.. Categories:
Animal