Emo vs. Glamour game
Follow us on Facebook and Youtube: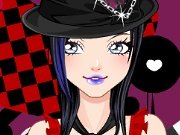 Description: Emo vs. Glamour
The main character of our wonderful online game for girls is cute glamorousgirl. Recently, shemade new friends. They are all fans of emo culture. They invited her to the emo party.Therefore, she should look like emo at this party. Help a girl to get rid of glamor and become emo.
How to play the game "Emo vs. Glamour":
Play with your mouse. There is the girl on the left of the game screen. On the right there is a panel with makeup, hairstyles, accessories and clothing. Click on the panel with the mouse and choose what you like best. When you finished creating the emo style, press the "finish" button and look what style id you created.
Played: 31995. Added: 27-08-2011, 12:37.. Categories:
Make up