Dora The Explorer Jigsaw game
Follow us on Facebook and Youtube: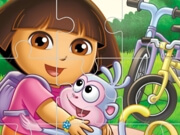 Description: Dora The Explorer Jigsaw
Cartoons with Dora are very popular now. Because Dora is a very active girl and loves to travel. And who doesn't like traveling and being in nature? Yes, everyone loves! In this game, you can once again find yourself in the company of Dora, who sets off on a new journey with her beloved monkey. As many as 12 levels of puzzles are waiting for you, where you can connect all the parts of the picture into one whole. Complete the game level by level to get to the next one. After all, otherwise it will not be possible to go to the next level of the game. Although there are many levels, they are easy to assemble. Try this game and you will definitely like it.
Dora The Explorer Jigsaw game walkthrough:
Play Dora The Explorer Jigsaw game