Searching for the baby fox game
Follow us on Facebook and Youtube: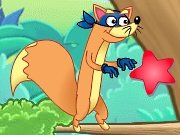 Description: Searching for the baby fox
Dora the explorer is very glad to meet you in this wonderful online game for girls. Today she and her friend Swiper the fox are going to a new journey. They heard that little baby fox got lost in the forest, and they decided to find him and bring him to his mother. But it's not so simple. they will find a lot of obstacles In the forest. Help them with their search.
How to play the game "Searching for the baby fox":
You will play for Swiper. The game is controlled with the keyboard. Use the left and right arrow keys to make Swiper go. To jump, use the space bar. Collect the stars along the way and earn points.
Played: 80811. Added: 14-09-2011, 17:57.. Categories:
Dora
Searching for the baby fox game walkthrough: