Train the puppy with Dora game
Follow us on Facebook and Youtube: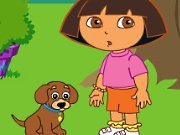 Description: Train the puppy with Dora
The famous adventurer Dora Is glad to see you in new online game for girls. Now Dora has a pet, a cute little puppy. Like all small animals, he loves to romp and play, so he needs good training and education. Help Dora with training of the puppy
How to play the game "Train the puppy with Dora:
Play with the mouse. Help puppy to learn commands. Click on the buttons at the bottom of the screen, and then move the items, or click on them to make puppy execute the command. After every task give the puppy a bone. When all the commands are worked out, click on «Done» button, and look at your work.
Good luck with the game!
Played: 76725. Added: 11-06-2011, 02:46.. Categories:
Dora