Diego in the rain forest game
Follow us on Facebook and Youtube: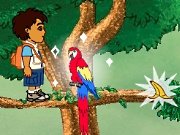 Description: Diego in the rain forest
The main character of our exciting online game for girls is the best friend of Dora the Explorer Diego. He is also a big fan of adventures. He loves to travel all over the world and learn many interesting things. Today, he went to the tropics to collect pictures of exotic animals. This is very dangerous, because wild animals are unpredictable. Help Diego to photograph all the animals.
How to play the game "Diego in the rainforest":
Your task is to find animals that Diego needs to take pictures of. Play with the keyboard. For the movement, use the arrow keys, to jump, press the space bar. Diego can jump from branch to branch and cling lianas. By the way, you can collect a lot of useful bonuses.
Played: 68517. Added: 1-09-2011, 15:22.. Categories:
Dora