Dora on the purple planet game
Follow us on Facebook and Youtube: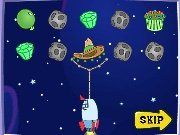 Description: Dora on the purple planet
Dora the explorer, this went to conquer the cosmos. And the best place for space adventures is purple planet. The inhabitants of this planet started a birthday party for one of them, but the meteor rain took presents and decorations for a party far into space. Therefore, Dora is sent to help her new friends and she invites you to save their party with her.
How to play online game for girls "Dora on the purple planet":
In front of you there meteorites, among which the gifts, decorations and treat for the guests are scattered. Move the ship with the mouse and click the left mouse button to take everything you need for a party. Be careful, collect only the objects of the same color with a little man, pictured on the left of the screen.
Played: 56961. Added: 31-08-2011, 21:26.. Categories:
Dora