Dora cooks pizza game
Follow us on Facebook and Youtube: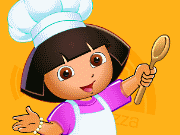 Description: Dora cooks pizza
Do you like pizza? Dora can cook this tasty dish and wants to teach you to cook it too! Dora will prompt you what to do, and you expertly complete everything you need and you get the most delicious pizza!
To play, you need a mouse to perform all actions with products and to manage a knife and pour ingredients.
Played: 71262. Added: 17-05-2014, 08:45.
Play other games from this developer:
StarSue.net
. Categories:
Dora