All Year Round Fashion Addict Mermaid Princess game
Follow us on Facebook and Youtube: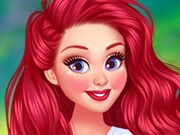 Description: All Year Round Fashion Addict Mermaid Princess
This Mermaid dress up game takes you on an exciting fashion journey through the year. Princess Mermaid is very fond of looking beautiful and is well-versed in fashion trends. She already knows what she will wear in every month of this year. She is waiting for the next morning and the girl will wear what she has planned to wear for so long. Princess looks like she's a real fan of fashion. How do you like it?
In this dress up game you can create a cool 12-month calendar. For each month, the Mermaid will select the outfits she wants to wear at the appropriate time. I think this is a great idea. And you? Help the princess in this dress up game choose cool outfits and create a photo for every month of the year. Upon completion of the game, you will receive a calendar for the year with a photo of the Mermaid Princess.