Sports style game
Follow us on Facebook and Youtube: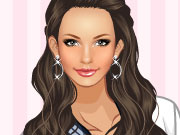 Description: Sports style
You all know how important sports are in a person's life. This is especially important if it is a growing organism and you spend a lot of time sitting at a desk. In this dressing game I suggest you imagine how you might look if you were doing sports and dressed like a sports star. This is a very cool game, as it motivates to play sports and look very beautiful and sparkle with health.
Use the mouse and drag jackets, pants, sports skirts and shoes. Pay attention to the jewelry, as well as stylish hairstyles. Of course, remember the sports and stylish handbag, which in the game is enough to perfectly complement the sporting image of this girl.
Played: 17334. Added: 25-09-2018, 09:47.. Categories:
Dress Up