My Kawaii Winter Scarf game
Follow us on Facebook and Youtube: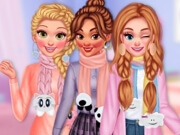 Description: My Kawaii Winter Scarf
Winter is cool but also cold. Even the beautiful view of the snow and the opportunity to decorate the Christmas tree still make us think about the cold. At this time, it becomes so cold that any autumn outfit does not save you from a cold. Therefore, in winter, one of the most valuable things in a dress is a scarf. In this game, along with the princesses, you can enjoy the process of choosing a kawaii scarf. Start by choosing the shape of the scarf, its color, texture, and then start choosing makeup, hairstyle, and jewelry for the princesses. And of course, no one will walk in the same scarf in winter. Therefore, you can choose warm sweaters, warm jeans, a tactile coat, and a hat. It is very cool when so many princesses are waiting for your help. Choose unique outfits for each of them and create a cool photo with them.