The letter for Santa Clous game
Follow us on Facebook and Youtube: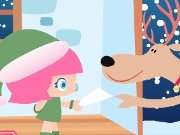 Description: The letter for Santa Clous
Every girl wants to find the best giftunder the Christmas tree. But how does Santa Claus know what gift to send you. There are so many children all over the world, and he needs to go round each house. Today you have the perfect opportunity to write a listof Christmas gifts that you want for yourself, and send it directly to the North Pole in the hands of Santa Claus in this Christmas game for girls. Start from writing your name, then you can enter a list of gifts. You can write several gifts. To do this just click the mouse on the label «Write a gift». Click on the words «Change your design», to change the design of your letter. The inscription «change your sheets» help change the look ofthe paper where you are writing the list. The button «Send to North Pole» will send your letter to the North Pole.
Let's go!
Played: 39285. Added: 16-12-2011, 19:11.. Categories:
Decorating