Fish underwater adventure game
Follow us on Facebook and Youtube: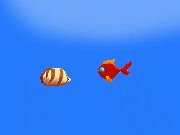 Description: Fish underwater adventure
In the underwater world, there are very strict laws. In nature the strongest always survives. The heroine of our wonderful online game for girls little fish knows the rules very good. More than anything, she wants to grow and become stronger to defend itself from its enemies and not to be scared of the mysterious underwater world.
How to play the game "Fish underwater adventure":
The game is very easy to control. Browse through the playfield, collecting fish of similar size and different corals and hamburgers to help the fish to grow. Do not touch the big fish, they will take your life. The game has many levels.
Good luck with the game!
Played: 53550. Added: 21-05-2011, 01:42.. Categories:
Adventure