Miley vs. Selena game
Follow us on Facebook and Youtube: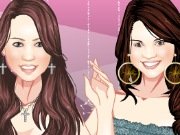 Description: Miley vs. Selena
Hollywood is just full of stars, each of which is a style icon for its fans. In our great online game for girls you will be able to help two young Hollywood stars Miley Cyrus and Selena Gomez to decide who is really cool. Their style will be evaluated on a grand show.
How to play the "Miley vs. Selena" dress up game:
Play with the mouse. Dress up each star alternately. Use the clothes switches on the bottom of the screen. To try things on, drag them to the star that you are dressing up at the moment. When both stars styles are ready, press the «show» button on the bottom of the screen and see the result.
Good luck!