Miley Cyrus changing room game
Follow us on Facebook and Youtube: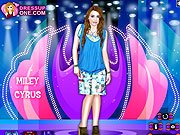 Description: Miley Cyrus changing room
A wonderful game for girls. Miley Cyrus from the popular series Hannah Montana is now in her changing room and tries to choose the appropriate clothes for the scene. Girls, help her with this difficult task. Choose  a beautiful dress or stylish trousers with the glamorous shirt. Try a variety of accessories that make Miley unique. And do not forget to do an extraordinary makeup for Miley that will leave no one indifferent.
How to play the game " Miley Cyrus changing room":
The game is controlled very simply, use the mouse. Select a piece of clothing or accessory, click on it and it will appear on Miley. To do Miley's make-up select tool: the shadows, blush, lipstick, click on the colors you like, and Miley will immediately turn into a series star.Enjoy the game!