Dress Up Hannah Montana game
Follow us on Facebook and Youtube: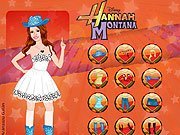 Description: Dress Up Hannah Montana
A new episode of Hannah Montana series is coming soon. This Hannah Montana dress up will take you into the world of TV shows. Glamorous Hollywood requires a unique bright image. Staying on the high level among the world celebrities is not so easy. Become a new stylist for the show. Create the right image for Hannah Montana for the next episode.
How to play
Use the mouse to control the game. Hannah Montana is on the left of the screen, on the right there are clothes and accessories, from hats to shoes. Click the left mouse button on the icon and switch between options.