Miley Cyrus True love game
Follow us on Facebook and Youtube: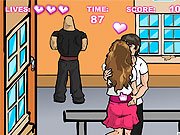 Description: Miley Cyrus True love
Like every girl Miley Cyrus wants to find her true love and can not live without kissing, especially with the handsome supermodel boy Miley is not going to miss this chance. Help Miley to find her true love and kiss the boy of her dreams.
How to play the game
This fun game for girles is controlled by the mouse. Click and hold the left mouse button to make Miley and her boyfriend start to kiss. Be careful, someone always want to interrupt them. Do not let Myley and her boyfriend been caught.