Hannah Montana Dress up game
Follow us on Facebook and Youtube: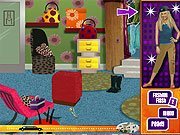 Description: Hannah Montana Dress up
Hannah is late for a concert. But in her wardrobe is such a mess. And, besides, every song requires a costume, which consists of different elements. Girls, only you can help Hannah to find all the elements of each costumes and dress up in time to go on stage.
How to play the game "Hannah Montana Dress Up": To control the game use the mouse. First, you'll see the photo of the costume, which you will need to dress Hannah. After some time the photo disappears, and you have to remember all the details of the costumeas to repeat the image as closely as possible. Then you'll be in the Hanna's dressing room, where you have to find all the items of the costume. Enjoy the game!