Miley Cyrus on the red carpet game
Follow us on Facebook and Youtube: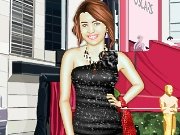 Description: Miley Cyrus on the red carpet
Miley Cyrus is a popular young actress and singer, who plays Hannah Montana in the same named series. She is a talented, rich and famous. Today, she will attend the "Oscar" award ceremony, so she should look stunning. In our wonderful online game for girls you can help her to choose an outfit for the ceremony and banquet.
How to play the game "Miley Cyrus on the red carpet":
Play with the mouse. Here is Miley. Choose beautiful hair for her, suitable dress or suit, try on various accessories and shoes. To do this, click on switches on the left of the game screen. Make the superstar look uniquely beautiful.
Good luck with the game!