Hannah Montana vs Taylor Swift game
Follow us on Facebook and Youtube: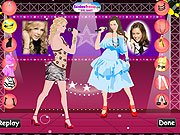 Description: Hannah Montana vs Taylor Swift
In this fun online game for girls you really will gain the power. Become a judge of the coolest confrontation between the two teen fashion legislators. Decide who can be the real style icon. Who is the real fashion-monger. Girls, just you are able to resolve this dispute.
How to play the game "Hannah Montana vs Taylor Swift":
The game is controlled by a mouse. On the screen you will see Hannah and Taylor,on the right from Hannah Montana and on the left from Taylor Swift you will see the bubbles with the clothing and accessories icons. Create an ideal style for each of them.