Mileys Romantic Kisses game
Follow us on Facebook and Youtube: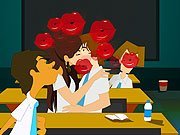 Description: Mileys Romantic Kisses
About game: Fantastic online kissing game for girls. How can you think of boring school lessons when the most handsome and popular guy in school is next to you, and who also wants to kiss you. Help Miley and Justin to kiss each other but without knowledge of their strict teacher Nick Jonas.
How to play the game:  To make Miley and Justin's act, press and hold the left mouse button. Attention, to go to the next level, you need to get a number of bonuses from kissing.Good luck with the game!