Miley Makeover game
Follow us on Facebook and Youtube: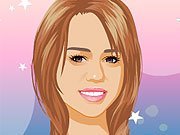 Description: Miley Makeover
About game: Miley is going to the-world tour, which she should be very well prepared for. Makeup and hair should always be on top. Also Miley has a lot of fashionable and stylish things, but she can not take everything in a tour. Girls, your task is to help her to choose the most suitable clothes and style for different places. Miley is going to visit the hot deserts and the northern countries. Help her to be ready for any weather changes.
How to play the game "Miley Makeover" It is very simple. To start doing make-up click the mouse on your favorite colors and styles, and Miley's face will immediately change. Then press the Next button and proceed to the choice of clothes. Then you can choose the area which Miley is going to visit..Enjoy the game!