Dress Up Miley Cyrus game
Follow us on Facebook and Youtube: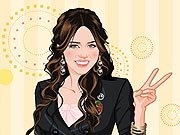 Description: Dress Up Miley Cyrus
About game: A nice online dressing game for girls. Miley Cyrus' closet is full of a huge amount of different clothes. It's time to arrange a raid in Miley's wardrobe. Your task is to choose the most stylish, most beautiful and fashionable clothes for Miley. Girls, make sure that our young star lookes best.
How to play the game: Game control is very simple. Use the left mouse button. Choose clothing items and drag them to Miley. And that's all!