Hannahs Beach Holiday game
Follow us on Facebook and Youtube: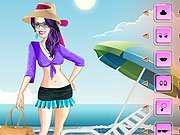 Description: Hannahs Beach Holiday
At this time, Hannah Montana has decided to take a break from exhausting concerts and tours. The best place to relax is the ocean, the sun and the beach. But everyone knows that the star should always look million dollars at any time and anywhere. Girls, help Hannah to dress for beach holidays. Choose the most fashionable and stylish swimsuit. Try a pair of sandals and choose a suitable hat.
How to play the game: 
This game is not only very interesting but also very easy to operate. There are icons with clothes and accessories items on the screen. Click on the arrow next to the icon to choose your favorite clothing item.