Hannah Montana Trivia game
Follow us on Facebook and Youtube: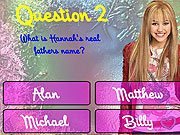 Description: Hannah Montana Trivia
About game: This interesting online game for girls offers you to test your knowledge about the series "Hannah Montana" heroine Miley Cyrus. If a quiz is what you like, you\'re welcome. You have a great opportunity to share everything you know about Miley Cyrus, her life and people who surround her.
How to play the game "Hannah Montana trivia": It is very simple. Your task is to answer the questions correctly. Use the mouse. Start the game and choose the correct answers.Enjoy the game!