Wireless Quest game
Follow us on Facebook and Youtube: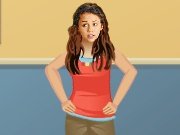 Description: Wireless Quest
Hannah Montana is a popular youth series. School life is not so simple, every student has some school problems and difficulties. Little problem has recently happened with Miley Cyrus. Sneaky Jackson hid Miley's personal diary somewhere in the school. But he left little clues for Miley. Only thirty minutes before the lesson starts left to find the diary, help her to find the diary during this time, otherwise the whole school knows Miley's secrets.
How to play "Hannah Montana: Wireless Quest":
For the movement, use the arrow keys. Use the spacebar for the action. Click with the mouse on the phone to receive calls and SMS, and also to use GPS map.