Hollywood Hall of Fame 2 game
Follow us on Facebook and Youtube: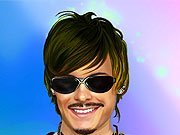 Description: Hollywood Hall of Fame 2
In this wonderful online game for girls you are invited to conjure over the appearance of three famous people: Rihanna, Zac Efron and Miley Cyrus. You can transform one of them, or all of them in turn. Bright colors, various tones, a huge number of clothing and accessories. Only your imagination and maximum creativity are required.
How to play the game:
 The game is controlled very simply. Press the left mouse button on the icon with the stylist tools, for example, to rouge, click on the lipstick, put cursor on the lips and press to the make stars lip color change.