Angela Twins Family Day game
Follow us on Facebook and Youtube: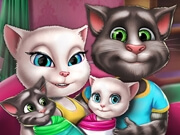 Description: Angela Twins Family Day
Tom's cat and Angela's cat have a new addition to the family. Two wonderful kittens are like two peas in a pod similar to their parents. In this game, you can help Angela's mom with taking care of the kittens. While she is doing them, you can help her clean the room. Cat Angela will appreciate your work very much. Put all diapers in the trash bin, toys in the drawer. Then you can help your favorite heroes to warm up the milk so that Tomcat and Angela the cat can then feed the kittens with milk.
How to play
: use the mouse and the in-game hints to help Angela the cat cleaning the house and heating the milk while she looks after her kittens.