Cat DJ Tom and Angela cat game
Follow us on Facebook and Youtube: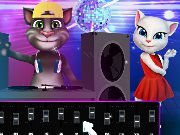 Description: Cat DJ Tom and Angela cat
Ready to visit the coolest party of the year? Cat Tom will be music to the DJ booth at this fun party . You can help him.
How to play this game:
in the game you will see the Tom cat behind the DJ booth. He's going to surprise a cat Angela and make her a cool track. For this you can click a mouse on the buttons at the bottom of the game. Use the ability to record music and then play it. To start recording music, click on one of the three microphones on the right.