Cat Tom plays the piano for Angela game
Follow us on Facebook and Youtube: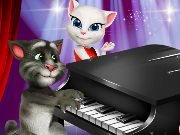 Description: Cat Tom plays the piano for Angela
Cute and nice talking cat Tom is in love with a cat Angela. What a cute couple! Look at them a pleasure. In this music game, the cat Tom cat Angela wants to sing a beautiful song. With the song he had already decided, but pick a good melody he can not. Help him to come up with romantic melodies to the cat I was very happy about it.
How to play:
In this game you can help to make the music for serenades talking cat. You will see the piano keys at the bottom of the screen. Use the mouse to click on them and make a beautiful melody for serenades. Then click on one of the microphones to the right to begin recording your music. As the recording is finished, you can listen to it. You can put three tunes. Try and enjoy the game!